Travelers also have their own categories and style which makes each one of them different from the other. Some love to explore the skyscrapers and luxurious aspects of cities, some uncover historical ruins, some want to view the world as a perspective of a common man, while there are some who have dipped their toes on every beach and can tell you about the sand to water ratio of all the shores around the world but in this blog features the best Waterfalls to visit for nature lovers or hikers
However, we're here to talk about those who want to discover the epic form of nature's masterpiece i.e waterfalls. It has proven time and again to be the most mesmerising wonders, with a view of water emerging from the hills flowing into rivers or forming a lake. Every waterfall explorer can affirm that sometimes this simple hunt transforms into a tacty trekking until you feel the fresh water flowing and dive into the enormous puddle of majesty of this world, seeming to a heaven on Earth.
If you want to gaze on this mesmerising beauty by yourself then we've compiled this list of breathtaking waterfalls from all around the world to explore on your next vacation.
Top 10 Best Waterfalls to visit
Although the world is filled with many wonders including mountains, lakes, glaciers, rivers, valleys, plains, and whatnot, some people are just lost at the sight of a waterfall flowing down and forming a lake. Some of these waterfalls are listed below:
Victoria Falls, Zambia and Zimbabwe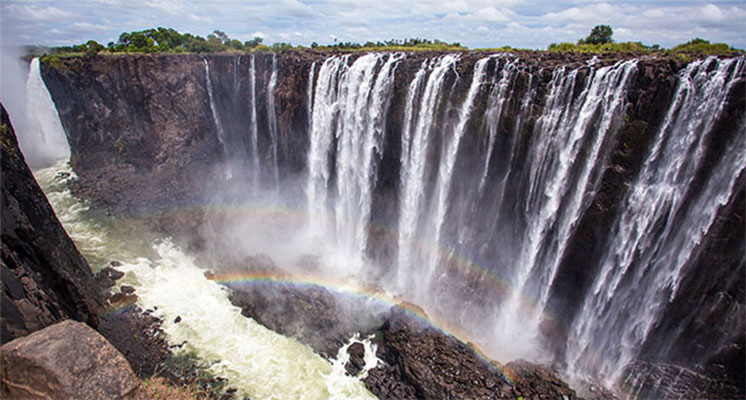 One of the most coziest and quite popular waterfalls, making it to the top of our list is the Victoria Falls. It is situated on the friendly border of Zimbabwe and Zambia. People from both the countries are able to visit the waterfall and it is even accessible through the Western Zimbabwe town for you to explore. You may be wondering why we've placed in one number, the reason is its large sheets of continuous water flowing down. You may come across some once in a lifetime scenery while you're there and it has been among the top popular tourist sites since the 1900s.
When Should You Visit?
Try going between March and August. Although Victoria Falls is famous for its pleasant weather throughout the year, if you want to see the best view of the falls, summers aren't relatively a good idea being hot and dry.
Iguazu Falls, Argentina and Brazil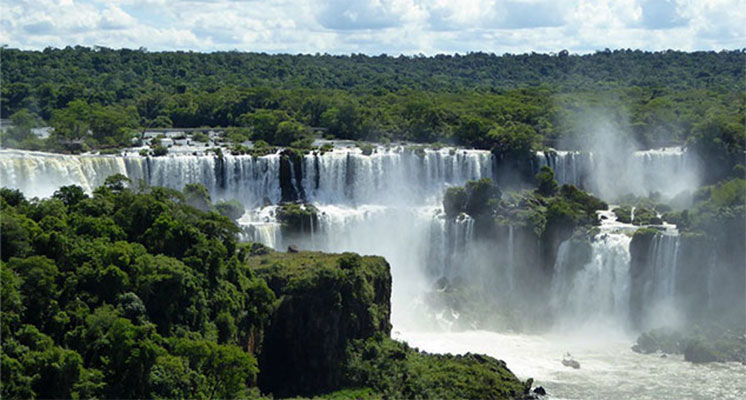 Iguazu Falls also falls in between two countries just like Victoria Falls, as it is located between the Argentina and Brazil border. Iguazu doesn't only let you have two stamps on your passport but also lets you explore the world's biggest waterfall system. It is around 269 feet with a wide curtain of 5,249 feet. These wide curtains add up to the beauty of these falls.
When Should You Visit?
You don't have to worry about looking at the weather when visiting Iguazu falls but if you want to see it at its strongest with a smaller crowd then visit from December to February.
Angel Falls, Venezuela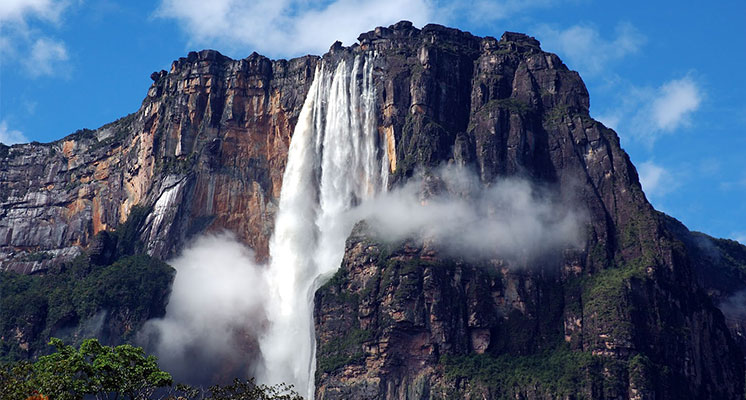 If you want to explore the world's highest waterfall that flows from around 3212 feet then you must book your flight to Venezuela right away. It's a place you want to visit once in your lifetime, within the UNESCO World Heritage site and was discovered during the search of El Dorado city. For visiting the falls, you want to level up your hiking game as it's still quite remote away from the city hassle. But after hours of hiking you'll be duly rewarded with the fresh flowing water.
When Should You Visit?
For visiting Angel Falls, you can't travel simply any time. As traveler's guides recommend coming here from June to December as it is located across the river which rises enough for a safe passage at that time.
Niagara Falls, New York and Ontario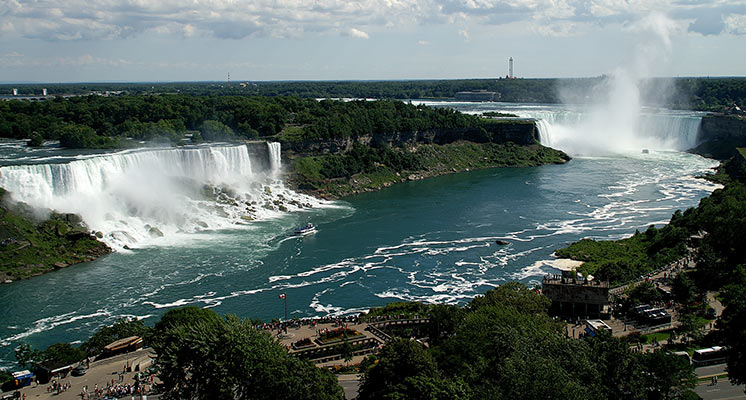 One of the most visited waterfalls all around the world is located in both New York and Ontario between the US-Canada border called Mighty Niagara. Even if you're not a waterfall explorer and just a traveler, you must have seen these falls. It has the height reached up to 167 feet, stretching on to the sky. The side situated in Canada offers a busy yet tourist friendly town having many spots to explore while in the US, you'll see a more natural and mesmerising sight, so enjoy both the experience.
When Should You Visit?
If you want to go for a scenic view then from May to September, you'll mainly see blue skies and rainbows spreading across the waterfall. Even in winter, the waterfall won't freeze, it'll just be shrunk than usual.
Yosemite Falls, California, USA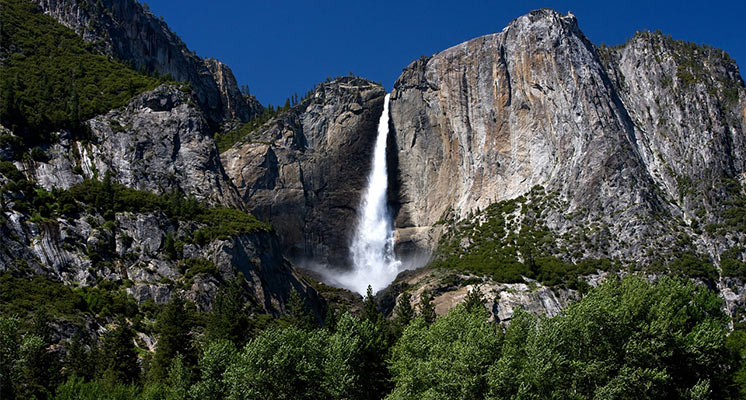 You can't simply visit the breathtaking Yosemite National Park in California and not get mesmerised with the beauty it offers. Just the glory and grace that Yosemite's waterfall has to offer simply locks your glance for minutes. It is flowing from 2425 feet high and to simply say it's huge and beautiful. The best thing about it is you don't even need to get close to enjoy it, its beauty can be enjoyed even at a distance, perfect for people who want to be adventurous. However, If you want to explore its height then it is necessary to give it a try as it may take some efforts but it's worth the view.
When Should You Visit?
The best time to visit Yosemite is during spring as the beauty of Yosemite natural park is elevated with beautiful weather and natural habitat.
Plitvice Falls, Croatia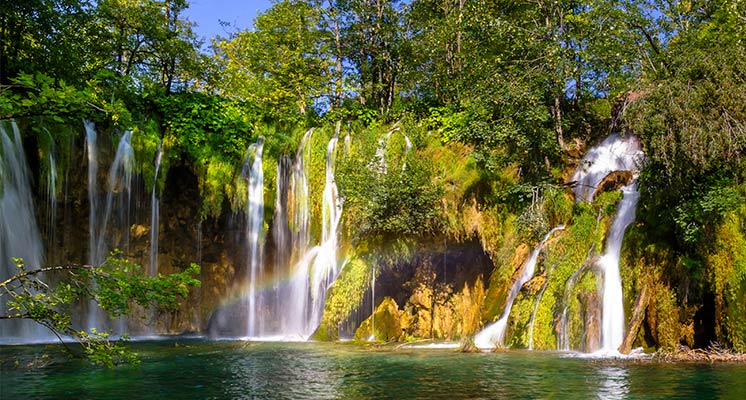 Another heartthrob waterfall that surprisingly lives at the heart of Eastern Europe is Plitvice Falls. You may not imagine any waterfall located anywhere in Europe but this waterfall is a big part of Plitvice National Park known to be the largest park of Croatia. It is around 255 feet high, turning out to be an amazing sight to experience. Every year since the middle of the last century, millions of people visit every year to praise this beautiful landmark.
When Should You Visit?
If you want to spend an ideal time in Croatia visiting the Plitvice then you must go in summer during July to September. You'll experience the perfect weather and sunny blues. However, you may need to stack up your pockets as the prices will be relatively high during summer.
Kaieteur Falls, Guyana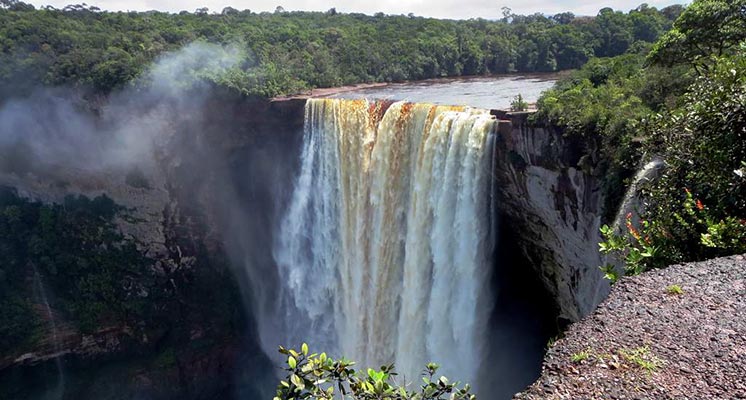 Kaieteur Falls, settled somewhere down in the Amazon, is viewed as one of the numerous precious fortunes of the rainforest, and of South America overall. It's likewise the biggest cascade assuming you're counting by volume of water, so get ready to get wet! Getting started at 741 feet, Kaieteur offers an incredible look into the sensational magnificence of nature as well as a smidgen of spectacular experience. Be that as it may, don't be tricked by the to some degree distant area, Kaieteur was found in 1870 and has been a high priority travel experience almost from that point forward.
When Should You Visit?
When it comes to Amazon, you can't simply predict the weather, thus we can't guarantee the perfect time to visit. Just go on relatively warm days but not in summers, making March to June a fairly proper time to visit.
Gullfoss Falls, Iceland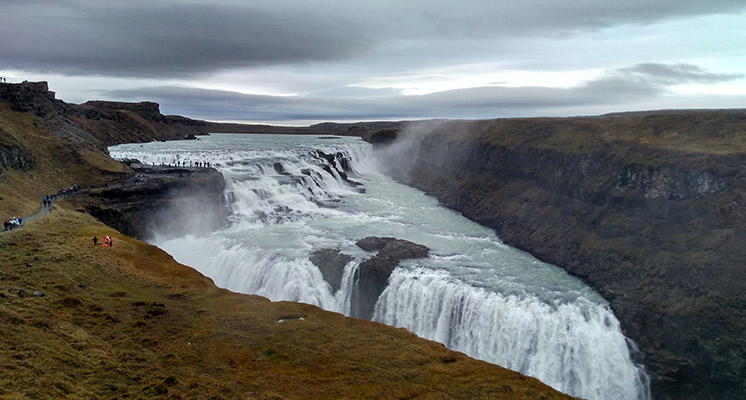 Some place on the cold Olfusa River surges Gullfoss Falls, Iceland's most famous cascade and a genuine sign of the normal, ice-conditioned magnificence to be tracked down all through the country. Most frequently seen from a higher place, Gullfoss offers a sensational sight: it seems like the water surging off the precipice is essentially disappearing immediately and inexplicably. However so strong it was once considered a hotspot for power age, the fountain is only 104 feet. Be that as it may, don't allow the numbers to trick you, the sheer power of the surging water makes Gullfoss a touristic must-see.
When Should You Visit?
Going to Iceland is a summer thing with long days full of exploration, try visiting the falls during afternoon hours as you'll find the best lighting hitting the cliff.
Sutherland Falls, New Zealand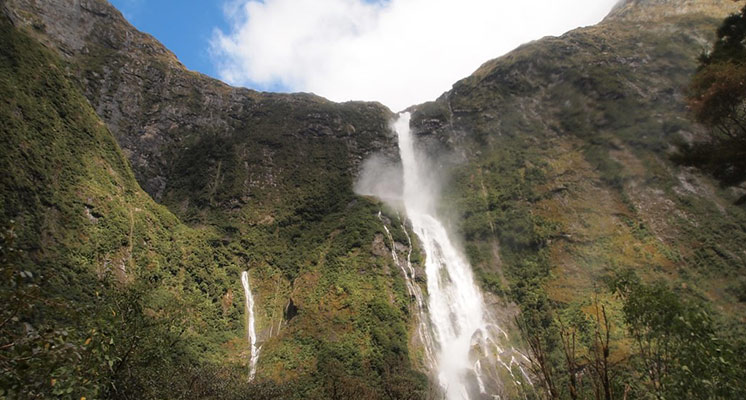 Concealed in New Zealand's South Island is the stunning Sutherland Falls. However the jury's actually out on the off chance that Sutherland Falls is New Zealand's tallest, at a dignified 1,904 feet, it's unquestionably sufficiently great to wow even the hardest to please. However Sutherland Falls has been climbed to beginning around 1890, numerous travelers actually wonder about the remote, outside of what might be expected nature of the climb through the Milford Track, especially in New Zealand winter, which is viewed as the low season and known for patches of erratic climate.
When Should You Visit?
If you're new to hiking then you must go in Summers starting from late October to early April.
Jog Falls, India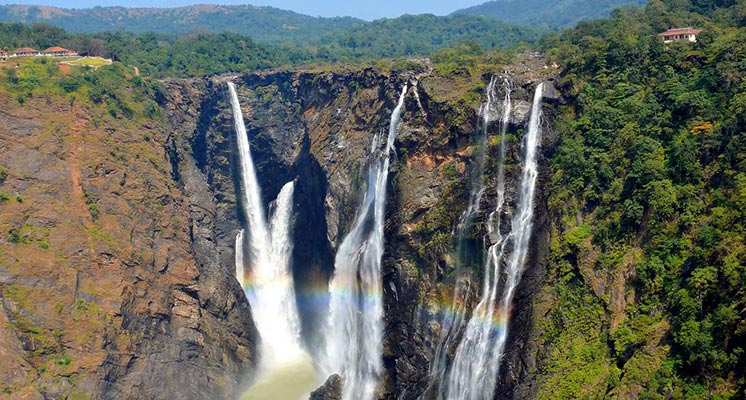 India is known as the land of natural beauty enriched in mountains, plains, valleys, etc. Every state has its own natural dynamics and every spot is a view. For the waterfall lovers, Karnataka is the heaven on Earth where the Jog Falls lies with all its glory. With a height of around 830 feet, you'll see the impressive views of Karnataka valley with rich and tempting landscapes and sceneries. So, if India is within your vacation list this summer then don't miss out on the Jog Fall.
When Should You Visit?
Although India's weather is pretty pleasant throughout the year, the ideal time to visit Jog Fall is in Spring during April to July when the fall strength is moderate. For professionals, monsoon season is recommended from July onwards when fall is at its full strength.