There are many cities round the world observing colorful and cheerful atmosphere with their monuments, buildings, surroundings, and more. Some have all the buildings painted the same shade while others have each house painted like rainbows in a sky. All these not only increases the aesthetics of the city but also lifts up any lowsy day to full of fun. If you live like any one of those cities, you'll find amazing houses at every corner of hills up the shore like some painter's pallette which looks amazing in every weather. All these amazing things make the city unique and tempting to visit. Here are our pick of Most Colorful Cities In The World.
If you're in search of some of these cities to visit, we've compiled all colorful and cheerful cities, and different parts of towns or suburbs standing out because of its environment. Read along to know all about them.
Most Colorful Cities In The World
Some of the most colorful cities that stand out among all the different parts of the world due to their beauty in terms of colorful buildings and surrounding are mentioned below:
Havana, Cuba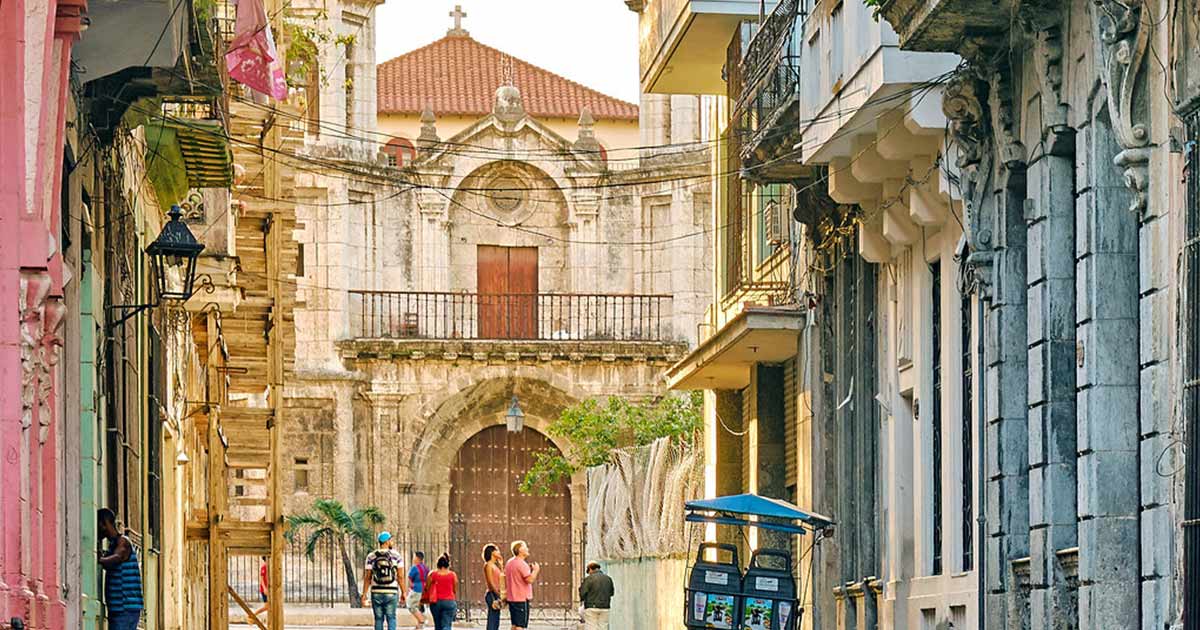 If you love vintage cars and architecture then Havana in Cuba is the place you don't want to miss. It is undoubtedly the city that reflects the work of art, looking like a bouquet of bright pallette buildings. Most of these buildings have colorful cars parked outside for showcasing purposes that increases its beauty more. You'll find the cars mostly matching the building color giving you an illusion that you may be standing at one of the sets. This is the perfect spot for all your aesthetic Instagram photos.
While you're in Cuba, you don't want to miss Trinidad which is as heavily colored as Havana with a more modern look perfect for photography.
Bristol, England

Bristol is the heart of UK and one of the most and must visited cities if you're on your England trip. You'll be amazed by the color synchronization of the houses and buildings. It is located at the upper side of the country, mainly houses built on the hills with the Avon river have been flowing alongside giving it a scenic view. You'll find elevated buildings located at those hilly corners giving the dellusion of old time's forts and castles. Wherever you go around Bristol, you'll find nothing but color whether it is on buildings, streets, walls, or from flowers and greenery. As it is located at the Southwest of the UK, it's mostly raining there, making you happy every time you go for a walk.
Although every view is scenic in Bristol, of you are in search of a more photographic location then you can always go to Harbourside Walk three miles from Bristol leading you to Clifton and Redcliffe having colorful boats in the Avon rivers just below the rainbow houses.
Burano, Italy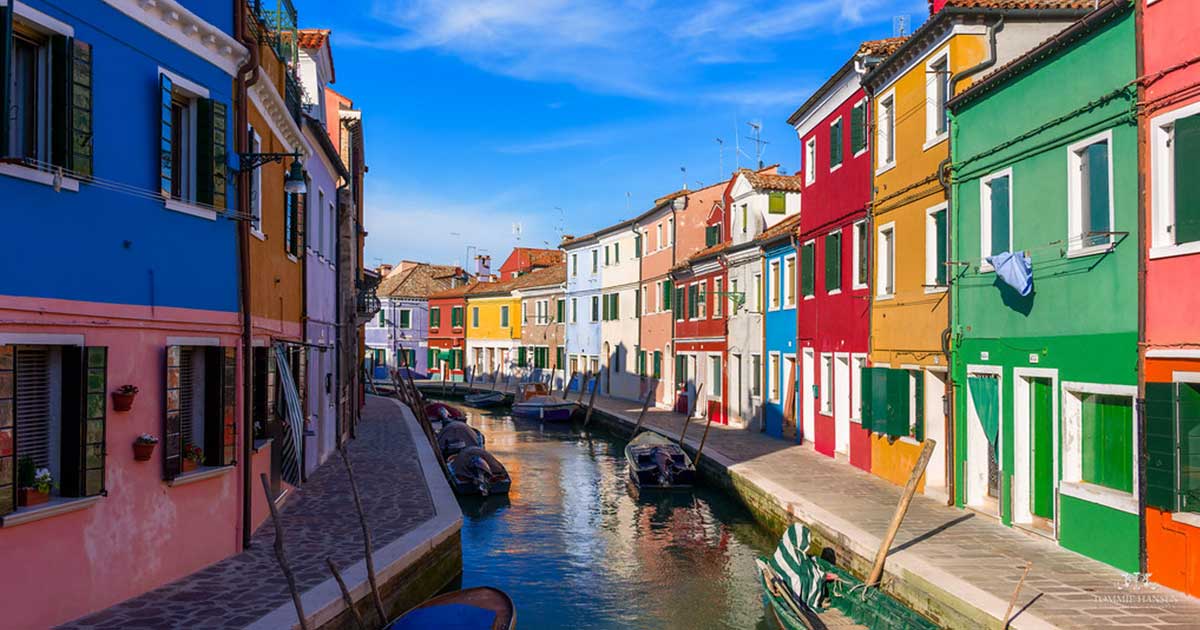 For most people Venice in Italy is the perfect holiday and honeymoon spot giving you all kinds of romantic feels and aesthetics in its surrounding. However, if you want to see the cheerful and funfilled island loaded with colors then Burano is your place to visit. This is a tiny island having every house painted in different shades of rainbow surrounded by the blue ocean. These houses date back to fisherman colony back in the 80s, where even now you can find an old women sitting outside, making the Burano's famous delicate lace.
You must buy a flexible ticket when traveling around the Italy, as the famous Vaporetto 12 stops at many mesmerising sights which you can visit quite easily, making the most out of your entire day and on a single route.
La Boca, Buenos Aires, Argentina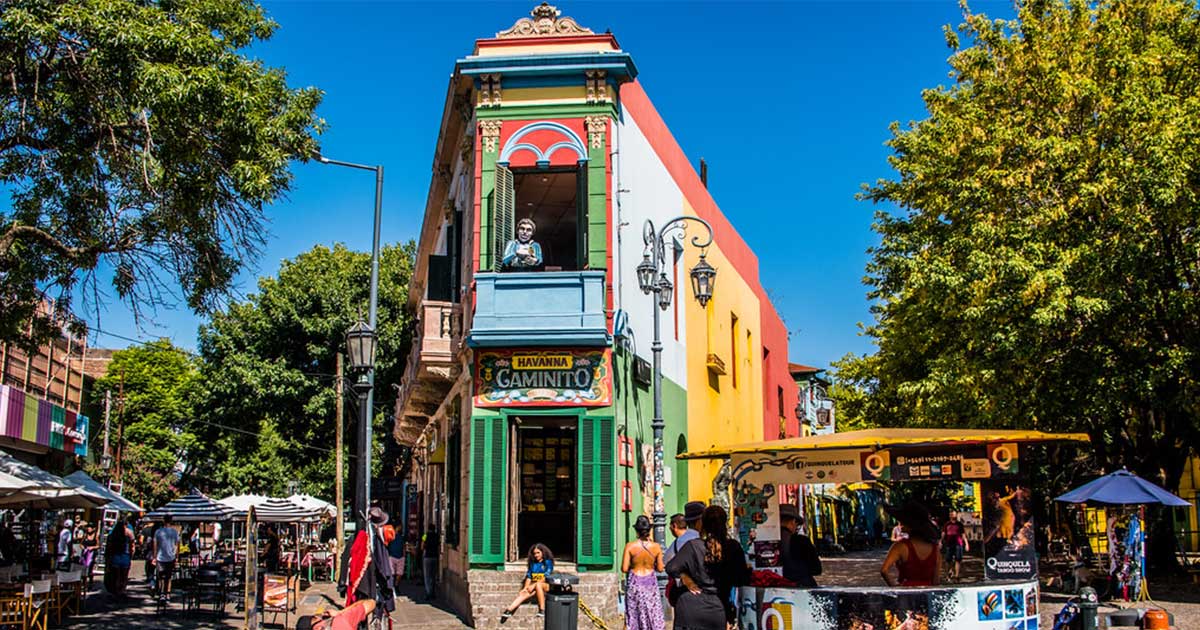 If you're an art enthusiast then Buenos Aires has all the places you want to see and experience. Most travellers usually covers the entire city by breaking their schedule amongst its districts, where each of them are known for something unique to show for tourists. Among all the districts, Lo Boca is the most colorful having a street dedicated to museum. Every house in that street is painted with bright colors and you'll find grafitti and street arts at almost every corner. There aren't any residence on the street just restaurants, dancers, musicians, etc.
You can also find a dedicated arts and craft market on the streets where many stalls are offering mesmerising painting tools.
Jodhpur, India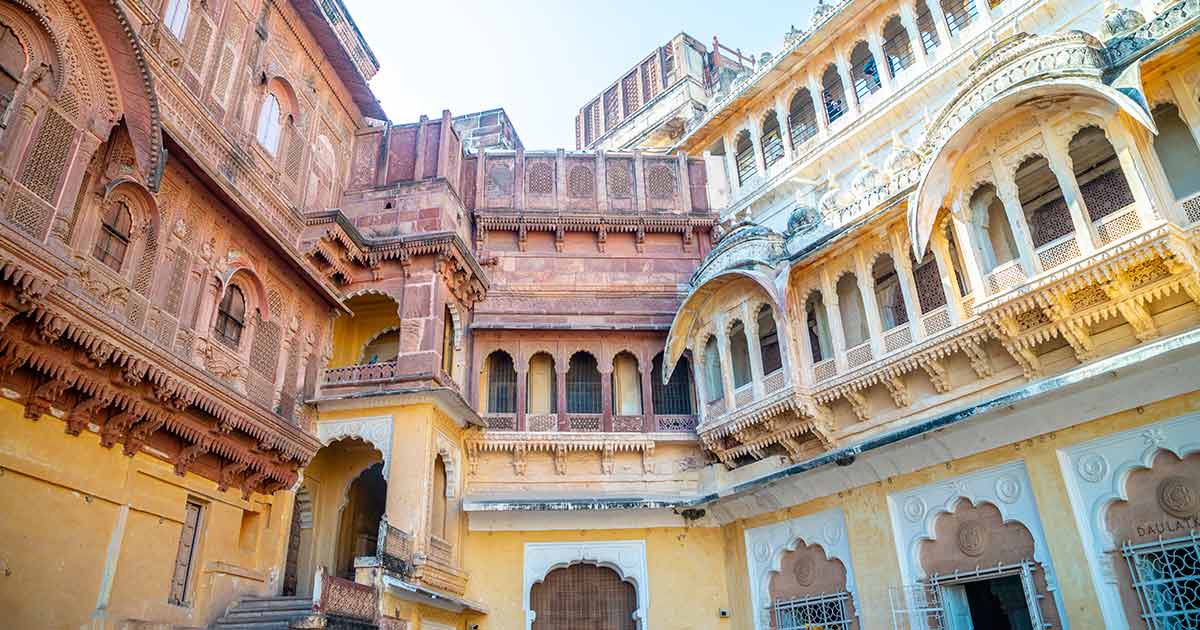 The second-biggest city in the northern territory of Rajasthan, Jodhpur is known as the blue city, and when you are peering down from the impressive Mehrangarh Fort that pinnacles over the city, seeing why is simple. The helter skelter houses in the old part are totally painted an exquisite shade of blue. There are different clarifications available for use with respect to why, from the variety forestalling termite assaults to it keeping the houses cool in the intensity, or that supporters of Shiva, whose body became blue subsequent to being harmed, painted their homes blue trusting it to be a sacrosanct variety.
Simply on the city's doorstep lies the dazzling Umaid Bhawan Palace, a previous home of the Maharaja of Jodhpur. It is presently an inn, so you can remain there, or essentially pop in for lunch and transform yourself as a king or a queen for a day.
Bo Kaap, Cape Town, South Africa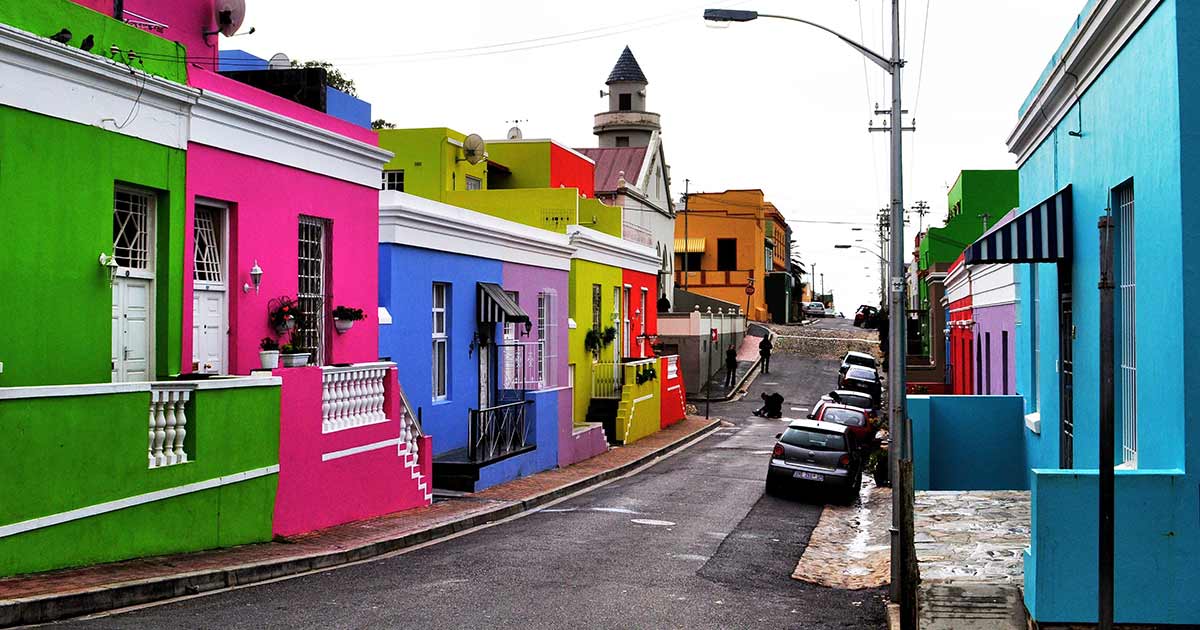 South Africa is also one of the most visited countries especially in vacations. It's famous for its wildlife, skyscrapers, mountains, and sceneries. Among all the cities, Cape Town stands at the top of tourist's list when visiting South Africa. If you want to discover colors in Cape Town then there may be no better neighborhood than Bo Kaap, having unusual and beautiful places to see.
It'll satisfy your Instagram picture's cravinhs with colorful and fun buildings reflecting insights and stories about every building. There is a deep part of history that lies within the streets of Boo Kaap where enslaved people from Indonesia or Malaysia used to live. The best part is when they were under slavery, they've painter their house white but once they got their deserved freedom, they painted the exteriors bright and colorful. You'll find a motivational success story in its streets.
Toulouse, France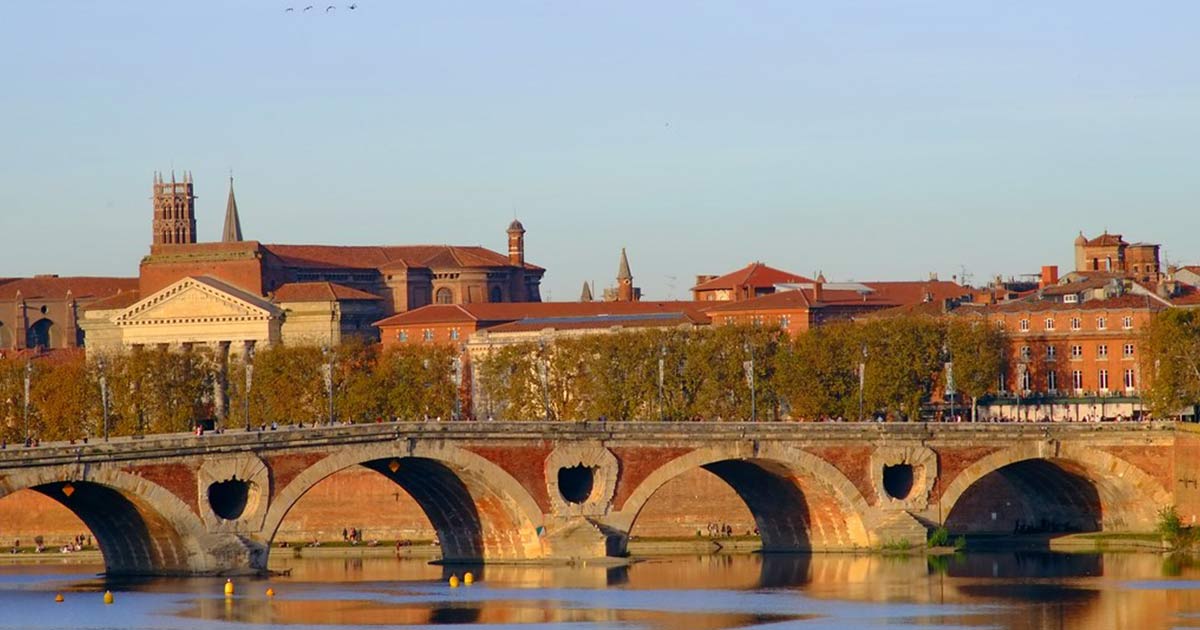 Named the Pink City, Toulouse is a foodie objective, a notable jewel encompassed by radiant open country and home to that renowned Canal du Midi, which interfaces the Atlantic Ocean with the Mediterranean Sea. It truly is pink, with different orange tints tossed in with the general mish-mash, and it's particularly awesome at nightfall, when the city's structures shine in their best shades. The distinction with Toulouse is that the variety is because of the neighborhood stone utilized while building the city, instead of paint.
Las Palmitas, Pachuca, Mexico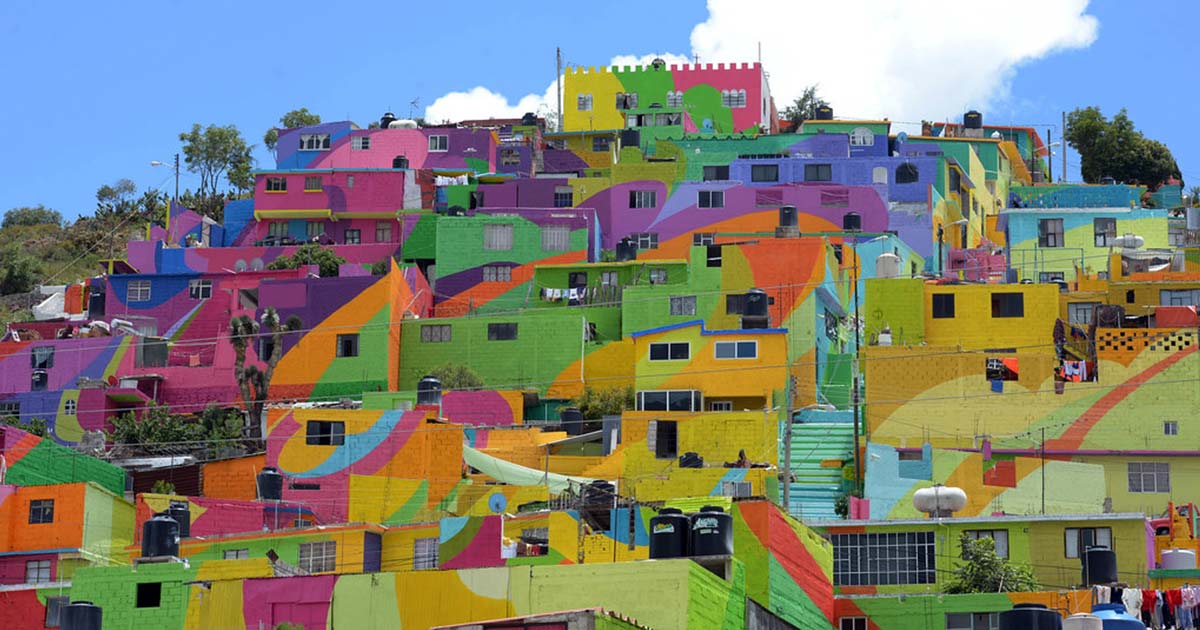 Mexico reflects colors even in the movies with colorful streets and natural means. One of the most unique and cheerful place you can find in the country is across 60 miles from Mexico City called Pachuca. You'll find every sort of colors that you have never seen in your real life when in Pachuca where its as unique as it gets. There are many houses covered in colorful swirls, especially the neighborhood of Las Palmitas crafted in 2025 by some skilled and famous artists of the country known as German Crew by collaborating with people living there. The history of this city is that it was once the home of violent people and mafia bosses which overshadowed its beauty. German Crew made a small attempt to show the world what this area was actually capable of by bringing art to its people.
Valparaiso, Chile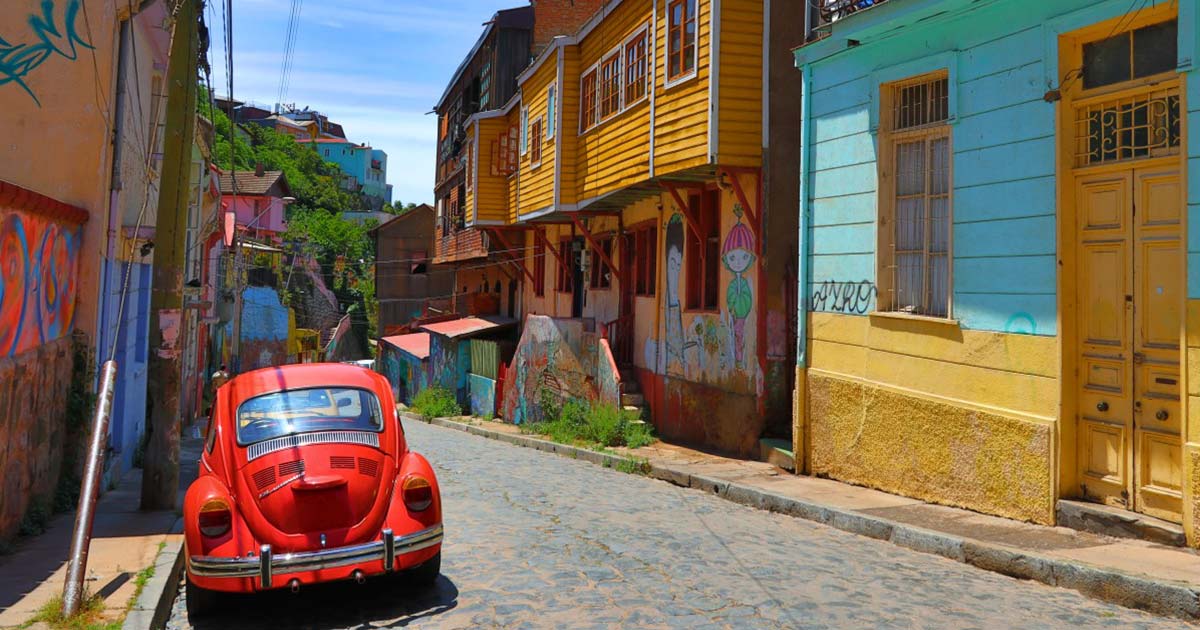 Valparaiso in Chile is the center of all colors around the world adding diversity to its natural scenic beauty. The place is situated at a hilly location loaded with colors reflecting with its houses and street art. The most admirable thing you'll see when you're going at the top is stair steps which are painted like a piano keys and some of them even has some poetry written on it. For those who have a thing for art, artistic locations, colors, and cheerful places, it doesn't get any better than Valparaiso. There are also many colorful cafés and restaurants offering you the complete view of the place, covering all the houses as well as the ocean.
It's better to visit the town with guides as they'll show every alley and lanes having their uniqueness.